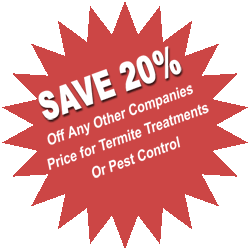 How can we do this?
Hot Topics:
Flying Insects
If you see flying insects inside your house during the springtime, they are most likely subterranean termites. Call us for a free inspection to identify them. Termites are often look like flying ants.
Pest Control Employment

We are always looking for qualified pest control professionals. Please give us a call if you have a valid California pest control license and a valid California drivers license.

We are pleased to work with other professionals in related fields.

If you are a Home Inspector, Licensed Contractor or a Branch 2 Pest Control Operator, please call us to discuss joining our affiliate program.


Click above to verify our membership in the Better Business Bureau





Click above to verify our license with the California Structural Pest Control Board, a division of the California Department of Consumer Affairs.

The Pest Control Board verifies that we are bonded and carry liability insurance.

Our employees are protected with workers comp insurance.