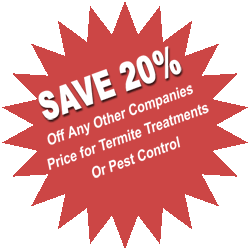 How can we do this?
Hot Topics:
Flying Insects
If you see flying insects inside your house during the springtime, they are most likely subterranean termites. Call us for a free inspection to identify them. Termites are often look like flying ants.
PEST NOTES/ UNIVERSITY OF CALIFORNIA DIVISION OF AGRICULTURE AND NATURAL RESOURCES
Please note All documents on this page are in the Adobe PDF format
Click the image below to get the plug-in.

WOOD DESTROYING PESTS


HOUSEHOLD PESTS


YARD PESTS (WE DONT TREAT)


APHIDS


PLANTS



Click above to verify our membership in the Better Business Bureau





Click above to verify our license with the California Structural Pest Control Board, a division of the California Department of Consumer Affairs.

The Pest Control Board verifies that we are bonded and carry liability insurance.

Our employees are protected with workers comp insurance.