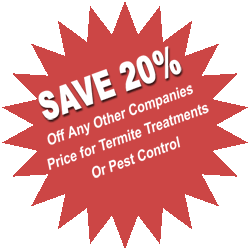 How can we do this?
Hot Topics:
Flying Insects
If you see flying insects inside your house during the springtime, they are most likely subterranean termites. Call us for a free inspection to identify them. Termites are often look like flying ants.
| | | |
| --- | --- | --- |
| | Arden Termite and Pest Control provides a complete line of services for termite inspections and pest control in the greater Sacramento area. | |
Alert: Bed bugs are infesting more and more apartments, hotels, motels and homes in the Sacramento area. If you or your tenants are finding strange insect bites or skin rashes, you may have bed bugs. Call us today to schedule an inspection and if needed, a discreet treatment. Your neighbors will never know!

This is termite swarm season. Winged termites can suddenly appear inside your home. You will often find them on window sills and near other light sources. While they look like flying ants, they are most likely termites here in the Sacramento area. Call us immediately to schedule a free inspection to be sure. Save a sample insect in a plastic baggie. Spray the rest with Raid or some other household pesticide. It won't kill the termite colony but it will slow them down until we can treat your home with Termidor, the most effective guaranteed termite treatment.

If you see mud tubes on your foundation or while remodeling or cleaning the garage, it means you have termites!

No matter how old your home is, where it's located, or how it's constructed, it is susceptible to being attacked by termites. Every year they cause billions of dollars of damage in the United States alone - damage that homeowners insurance won't cover. Chances are you will never see evidence of termites or termite damage until it's too late.

---

We offer a 20% discount off the written estimate of any other pest control company's bid or current contract for subterranean termite treatments.
We perform termite inspections, treatments and fumigations for the control of subterranean termites, drywood termites, wood boring beetles and other wood destroying pests.
We perform termite inspections and certifications for real estate transactions.
We service Sacramento, Placer, El Dorado and Yolo counties.
We are fully licensed by the California Structural Pest Control Board.
All of our inspectors and applicators are licensed by the state of California and receive continuing education to stay informed of the latest pest control technology.
We recommend Termidor for subterranean termite control.
We recommend Vikane for fumigating houses for drywood termites.
We recommend Timbor as an alternative to fumigating houses.
We recommend other local Sacramento pest control companies for the control of ants, bees, carpet beetles, earwigs, fleas, mice, rats, roaches, silverfish, spiders and other household pests.
Galt Termidor
Argentine ant workers are 1/16-inch long and light to dark brown, the queens are 1/8- to 1/4-inch long, brown, and covered with fine hair. Males are slightly smaller and a shiny brown-black. These ants lack spines on the thorax which is unevenly rounded when viewed from the side, have a single node on the petiole, and do not have a circle of hairs at the tip of the abdomen. The eyes are located very close to the base of the antennae and appear to be looking forward.

Biology: Colonies consist of several hundred to several thousand workers and several queens. They are located in moist areas near a food source. Developmental time (egg to adult) is 33-141 days and averages 74 days. Swarmers are rarely seen because mating occurs inside the nest.

Habits: Argentine ants are found throughout the southern United States and California. They typically live in nests outdoors near a food source but become major pests when they forage indoors for food. Overwintering nests are large, may have several queens, and are found deep in the soil and in buildings near heat sources. In the spring, these nests disperse with smaller colonies developing in moist soil, in trees, and under stones and concrete slabs.

The colonies are mobile, relocating to more acceptable nesting locations whenever necessary. In the fall, the colonies congregate in communal overwintering sites. Ant numbers decrease somewhat during this period.

Argentine ants are very aggressive and eliminate other ant species in the area they colonize. They attack, destroy, and eat other household pests, such as cockroaches. They prefer sweets, often tending aphids or scale insects on plants, and use them as a source of honey dew.


Click above to verify our membership in the Better Business Bureau





Click above to verify our license with the California Structural Pest Control Board, a division of the California Department of Consumer Affairs.

The Pest Control Board verifies that we are bonded and carry liability insurance.

Our employees are protected with workers comp insurance.